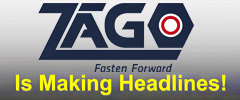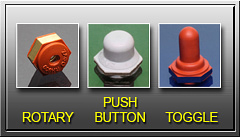 Rubber Switch Boots
Toggle Switch Boots
Pushbutton Switch Boots
Rotary Switch Boots
Rocker Switch Boots

Sealing Switch Boots
ZāGO Manufacturing Company specializes in producing sealing products, from self-sealing screws, nuts and bolts used in a wide range of industrial and military applications to switch sealing boots designed to protect electronic and electrical control devices. Through dedication, hard work and meticulous attention to the needs of our customers, we have established ourselves as a leader in the sealing products industry. Our products are made in the U.S.A. using the best materials available. As an ISO 9001:2008 certified company, our dedication to quality is clearly demonstrated. Customer satisfaction is our primary goal.
Our switch boots are crafted from a single piece design to perform under the most severe environmental conditions, providing full protection against exposure to harsh elements such as water, oil, sand, dust, dirt, humidity, moisture, precipitation and other contaminants. Our customers include major military contractors, aerospace industry suppliers, computer and electronic equipment makers, medical, marine products, and motor vehicle manufacturers.
CUSTOMER TESTIMONIALS - Show All
Company Information
ZaGO Manufacturing Company has been manufacturing sealing products in Newark, New Jersey since 1993. Operating out of a state-of-the-art facility in south Newark in close proximity to Newark Airport, the Port of Newark and all of New Jersey's major transportation and mass transit routes, ZaGO makes daily shipments throughout the United States, Central and South America, Mexico, Canada, Europe and Asia.
At ZaGO, our highest priorities are quality, customer satisfaction and product knowledge. We recognize that longstanding experience in an industry is not enough if it is not backed up by a knowledgeable, helpful sales and engineering staff. Regardless of the simplicity or intricacy of an order, and no matter whether it is for 100 pieces or 100,000 pieces, we always give our customers the same high level of service.