Specifications
Material:
Military – Silicone Rubber in accordance with A-A-59588 Class 3a, grades 30, 50, or 60. Standard color is gray. Other colors are available upon request.
Commercial – High Strength silicone rubber, grades 30, 50 or 60.
Mounting Nut: Corrosion resistant – Nickel Plated Brass
Design and Construction: Boots are designed and constructed to the physical dimensions specified. All threaded parts shall be in accordance with FED-STD-H28 unless otherwise specified.
Temperature Range: -93 F to +400 F
Pressure Range: 15 psi internal and 15 psi external
Military Specification: Meets MIL-B-5423
Ingress Rating: IP68
Shelf Life: 25 Years (depending on environment)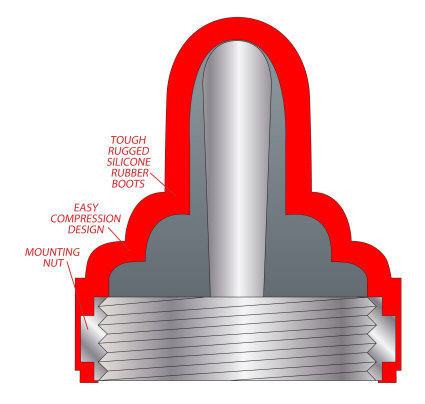 Specifications are written and applied with the intent of guaranteeing product performance. Specifications can be written by the customer for the rubber parts they are buying, but are often derived from a formal system developed by a technical association, such as the SAE (Society of Automotive Engineers), a government or military organization or the commonly applied commercial standard from ASTM (D-2000). International standard requirements are also commonplace.
Specifications for rubber products generally include physical and chemical tests for the compound. These may be relatively limited, such as basic levels of hardness, tensile strength, elongation, and resistance to oils and/or heat. These requirements may be expanded to include a variety of tests, such as compression set, flame resistance, low temperature resistance, special fluid or chemical exposure, toxicity evaluations, and more. The specification spells out what tests have to be done to qualify the product or process initially. The customer may require frequent re-testing of some or all of the initial tests to create confidence in the product.
While specifications are negotiable between the customer and the supplier, superior compound properties and a high frequency of re-testing may result in higher costs to produce the finished product.