Switch Boots Products
By replacing the ordinary mounting nut with ZāGO's new seal boot, a switch has full protection against exposure to harsh environmental elements such as water, oil, sand, dust, dirt, humidity, moisture, precipitation, and other contaminants. ZāGO's new switch seal boots are waterproof, not just water resistant, and are available for all types of electrical controls. Our new switch boots can handle tough applications for use in marine equipment, off-road vehicles, aircrafts, welding equipment, medical equipment, and much more.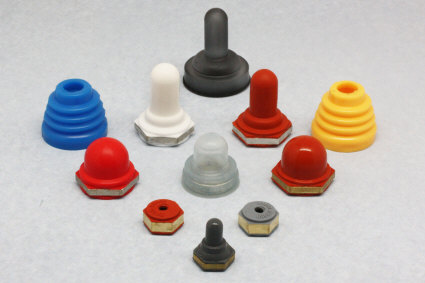 Get the protector. And seal out dirt, dust, air and moisture.
ZāGO introduces its new line of panel bushing seals. Our seal washers are stainless steel, type 202 or 302, molded both front and back with silicone rubber, to fit toggle switches 0.469" in diameter. ZāGO's bushing seals are designed for quick, easy and convenient installation and can be assembled so that the surface marked "top" is up and the surface marked "bottom" is down. The ZāGO seal washer is economical and provides a permanent seal against liquids, dust and other contaminants. The silicone rubber has a durometer hardness of 35 to 55, and excellent resistance to extreme temperatures. These washers are reusable as long as the silicone rubber elements remain intact. All of our panel bushing seals meet milspec Mil-DTL-5423.
Multi-Switch Panel Cover
ZāGO Manufacturing Co. is now pleased to introduce a new option for front panel sealing. This option includes a sealing cover in either colored or transparent material (for illuminated and non-illuminated applications). These covers provide a positive seal when actuators are projecting from the front panel, providing protection from salt sprays, spills and other harsh environmental challenges. The switch covers maintain effective sealing for temperature ranges of -67F to 356F. This kind of performance and added reliability can be designed into your panel for a low cost with minimum orders as low as 25 pieces.