Multi-Switch Panel Cover
ZāGO Manufacturing Co. is now pleased to introduce a new option for front panel sealing. This option includes a sealing cover in either colored or transparent material (for illuminated and non-illuminated applications). These covers provide a positive seal when actuators are projecting from the front panel, providing protection from salt sprays, spills and other harsh environmental challenges. The switch covers maintain effective sealing for temperature ranges of -67F to 356F. This kind of performance and added reliability can be designed into your panel for a low cost with minimum orders as low as 25 pieces.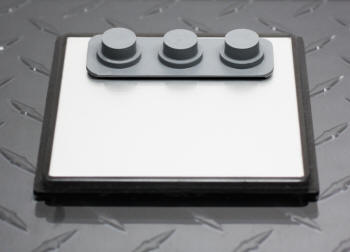 ZāGO's rubber switch boots and covers were developed as accessories that will eliminate expensive mal-function/repair of equipment and to greatly expand the selection of sealed switches. Our line of switch boots and panel covers are available for all types of switches with bushing thread sizes in metric or inches, as well as non-bushing switch covers as shown in the photo. ZāGO has the capability to design a switch cover to fit your specific application with easy installation.